Plant Sales
2021 Schedule
May 14 (Saturday): Members' plant sale at Morris Arboretum's Bloomfield Farm, Flourtown
August 20 (Saturday): Sale open to the public at the Fall Gardeners' Market
September 10 (tentative): Members' plant sale
Members' Plant Sales
These plant sales feature plants that are suited to our climate and are very reasonably priced, starting at a dollar a pot. Our silent auction plants are legendary for offering unusual plants, as well as hypertufa troughs and other sought-after items.

At the May 14 sale, plant donations are accepted from 8:30 to 9:30 AM, and plants for sale may be previewed up to 10 AM. The sale opens at 10 AM. Plants sell out fast, so we strongly recommend arriving before 10.

Instructions for donors: Plants must have a white label with the botanical name of the plant on one side and donor's name on the other side. For every 10 plants donated, donors receive 10 free plant labels and the right to select one early-choice plant (up to 5 early-choice plants). You'll be allowed several minutes to shop for your early-choice before non-donors start shopping. (Early-choice plants aren't free plants; you still pay full price.) Plants of exceptional rarity or quality are welcomed for the silent auction; extra credits for early-choice plants will be given.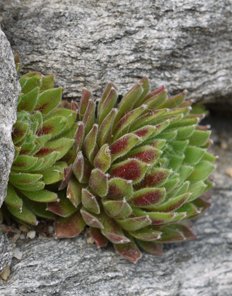 We will have lots of Sempervivums (hen-and-chicks) at the members' plant sale.
The plant selection is different at every sale. As an example, here are just some the plants for sale in September 2021:
Achillea 'Moonshine'
Adiantum venustum
Adlumia fungosa
Ajuga 'Princess Nadia'
Ajuga tenorei 'Chocolate Chip'
Allium albidum
Allium senescens 'Mongolian Gem'
Amsonia hubrichtii
Antennaria virginica
Aquilegia alpina
Aquilegia flabellata var. pumila
Arabis caucasica 'Rosabella'
Arabis androsacea
Armeria 'Nifty Thrifty'
Astilbe glaberrima var. saxatilis
Bellium minutum
Bletilla striata 'Variegata'
Campanula portenschlagiana 'Resholdt's Variety' (see photo at bottom of page)
Campylotropis macrocarpa
Carex 'Evergold'
Carex caryophyllea 'Beatlemania'
Chrysoganum virginianum 'Eco Laquered Spider'
Clematis x jouiniana 'Praecox'
Clivia miniata (not hardy)
Coreopsis gladiata
Delosperma 'Jewel of the Desert Peridot'
Delosperma congestum
Delosperma cooperi
Dianthus 'Firewitch'
Dianthus 'First Love'
Dianthus 'Neon Star'
Dianthus alpinus 'Karlik'
Dianthus cv.
Dionysia aretoides
Dracocephalum ruyschianum
Drosera filiformis
Epimedium cv. with copper flowers
Erigeron flettii
Euonymus fortunei 'Kewensis'
Gentiana angustifolia
Hosta 'Golden Tiara'
Hosta 'Kabitan'
Hosta 'Stiletto'
Hydrangea quercifolia
Hymenoxys acaulis
Indigofera amblyantha
Indigofera heterantha
Iris cristata
Iris cv, dwarf bearded
Iris ensata (blue)
Lagerstroemia indica
Lavandula 'Ellagance Purple'
Leptinella 'Platt's Black'
Lilium formosum var. pricei
Lobelia cardinalis
Lysimachia japonica minutissima
Metasequoia glyptostroboides
Ophiopogon planiscapus 'Nigrescens'
Osmanthus heterophyllus 'Goshiki'
Penstemon grandiflorus 'Prairie Snow'
Penstemon 'Mexicanum'
Penstemon smallii
Penstemon x mexicali 'Windwalker'
Phlox stolonifera
Phlox subulata
Phuopsis stylosa
Platycodon grandiflorus
Pleospilos neilii (not hardy)
Polemonium reptans
Polygonatum humile
Primula 'Fairy Rose'
Primula Candelabra Hybrid
Pulsatilla grandis
Pulsatilla vulgaris
Rhexia aristosa
Ruellia humilis
Sagina subulata 'Crispy'
Sarracenia cv.
Saxifraga cuneifolia var. robusta
Saxifraga longifolia
Saxifraga paniculata
Saxifraga paniculata 'Slater Dwarf 2'
Scutellaria sp.
Sedum 'Angelina'
Sedum 'Blue Spruce'
Sedum 'Vera Jameson'
Sedum 'Sunsparkler Wildfire'
Sedum dasyphyllum var. glanduliferum
Sedum Dragon's Blood ?
Sedum sexangulare
Sedum sieboldii 'Nana'
Sedum spurium 'John Creech'
Sedum spurium 'Tricolor'
Sempervivum 'Pacific Blue Ice'
Sempervivum arachnoideum
Sempervivum Specialty Blend
Solidago odora
Staphylea trifolia
Thalictrum rochebrunianum
Thuja koraiensis
Tiarella cordifolia
Tricyrtis hirta (purple)
Tricyrtis hirta (white)
Vaccinium macrocarpon 'Hamilton'
Veronica 'First Glory'
Veronica austriaca ssp teucrium
Veronica prostrata 'Nestor'
Viburnum plicatum 'Summer Snowflake'
Viburnum pragense
Viola odorata, highly fragrant form
... and many more
Fall Gardeners' Market
Saturday, August 20
Details to be announced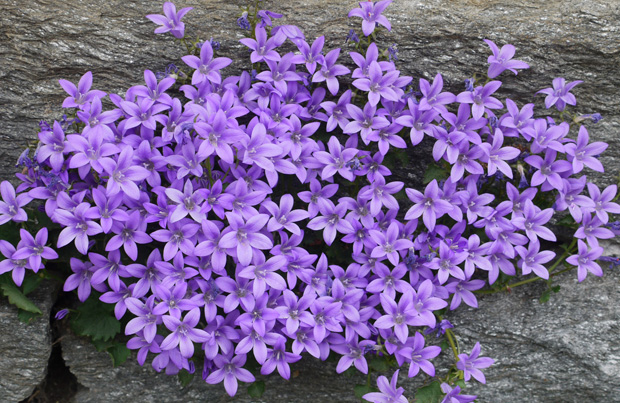 Campanula portenschlagiana 'Resholdt's Variety' (Dalmatian bellflower). Photographed May 6, 2010 in Philadelphia. Photo by Janet Novak.