Chapter Meetings and Events
For details on the program and location of each meeting, download the current issue of Dodecatheon.
January 14 at 10 AM
Chapter meeting: Members' Show and Tell
Plymouth Township Community Center (Directions)
February 11 at 10 AM
Chapter Meeting
Janet Novak: "Plants of Southern Europe: A Visit to Sardinia, the Apennines, and Greece"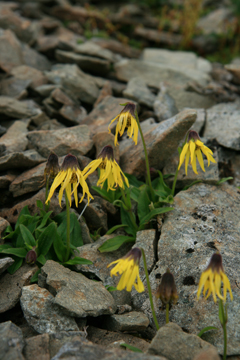 Arnica lessingii near the Bering Glacier in Alaska. Photo by Anton Reznicek

Plymouth Township Community Center (Directions)

March 11-19
Philadelphia Flower Show
Philadelphia Convention Center, 12th & Arch Streets, Philadelphia

April 8
Chapter Plant Show: Register your plants at 9 to 9:30 AM; view and judge the show at 9:30 to 10 AM
Chapter meeting: 10 AM
Bob Stamper will give a talk, "Rock Gardening 101."
Church of the Redeemer, 145 W. Springfield Road, Springfield, PA (Directions)

April 29
Special meeting
Anton Reznicek will give two talks:
"Alaska Botany—Tall Timbers to Tundra"
"More Habitats, Even More Plants: Microhabitats and Diversity in the Garden"
Cathedral Village, 600 East Cathedral Road, Philadelphia (Directions)

May 11-13
Plant Sale at Morris Arboretum
Our group will sell rock garden plants, troughs, and more. The sale is open to Morris donors on Thursday, to members of our chapter and of Morris Arboretum on Friday, and to the public on Saturday. More information.
Morris Arboretum, Philadelphia

May 19-20
NARGS Study Weekend in Madison, Wisconsin
Expert speakers, garden tours, and plant sales
More information is available on the NARGS Study Weekend page.

May 27
Members' Garden Tour
Visit the David Culp's garden at Brandywine Cottage and other private gardens in the Downingtown area.

June 10
Chapter Plant Sale
Plant donations are accepted from 8:30 to 9:30 AM; sale opens at 10 AM
Members may bring guests to the sale
Robbins Park, Ambler, PA (Directions)

June 17
Tour of the New Jersey Pine Barrens (joint event with the Watnong Chapter NARGS)
Anton Reznicek's crevice garden in May. Photo by Anton Reznicek.
A particularly nice red form of Corydalis solida. Photo by Anton Reznicek.