Plant Sales
2017
Plant Sale at Morris Arboretum, May 2017
May 11: open to Morris Arboretum donors only
May 12: open to members of DVC-NARGS and Morris Arboretum, 10 AM to 7 PM
May 13: open to all, 10 AM to 3 PM
The Delaware Valley Chapter of the North American Rock Garden Society will be represented at the Morris Arboretum Plant Sale. We will offer a range of rock garden plants, a few choice woodland plants, and hypertufa containers.
Plants to be offered in 2017 include: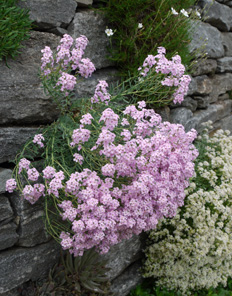 Aethionema grandiflorum (Persian stone-cress) planted in a stone wall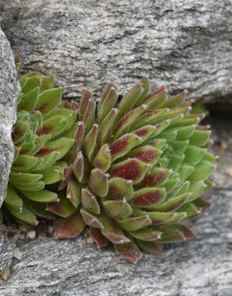 Sempervivum arachnoideum 'Stanfieldii'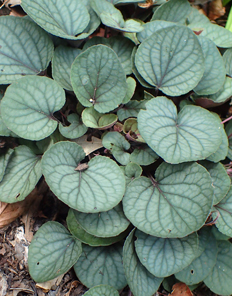 Viola walteri, a native violet with beautifully patterned leaves. Photo by Krzysztof Ziarnek.
Achillea tomentosa 'Aurea'
Acinos alpinus
Adonis amurensis 'Fukujukai'
Aethionema grandiflora
Allium senescencs ssp. glaucum
Anemone apennina
Anemone nemorosa 'Robertiana'
Anemone ranunculoides
Antennaria dioica 'Rubra'
Arabis blepharophylla 'Red Sensation'
Arabis procurrens 'Limedrop' (A. ferdinandi-coburgii 'Limedrop')
Aubrieta 'Dr. Mules Variegata'
Campanula portenschlagiana 'Lieselotte'
Campanula portenschlagiana 'Resholdt's Variety'
Campanula punctata 'Little Punky'
Cardiocrinum sp.
Chiastophyllum oppositifolium
Cymbalaria aequitriloba
Delosperma dyeri
Delosperma nubigenum 'Basutoland'
Dianthus 'Bourbon'
Dianthus deltoides 'Flashing Lights'
Disporum flavens
Erodium chrysanthum 'Yellow Form'
Erodium x variabile 'Roseum'
Erysimum pumilum
Gentiana cruciata 'Blue Cross'
Gentiana septemfida var. lagodechiana
Geum coccineum 'Koi'
Gypsophila cerastioides
Helianthemum 'Ben Nevis'
Heuchera pulchella
Hosta venusta
Hosta venusta 'Maskerade'
Lonicera crassifolia
Orostachys furusei
Penstemon hirsutus 'Pygmaeus'
Phlox amoena 'Variegata'
Phlox douglassii 'Red Admiral'
Phyteuma scheuchzeri
Pratia pedunculata 'County Park'
Primula elatior 'Victorian Gold Lace Black'
Primula 'Wanda Blue Shades'
Sagina subulata
Sagina subulata 'Aurea'
Saxifraga cochlearis 'Minor'
Sedum cauticolum 'Lidakense'
Sedum dasysphyllum 'Blue Cadet'
Sedum hispanicum var. minus (pink form)
Sedum makinoi 'Limelight'
Sedum makinoi 'Ogon'
Sedum stefco
Sedum tetractinum
Sempervivum: various cultivars
Silene schafta 'Persian Carpet'
Silene uniflora 'Druett's Variegated'
Thymus cherlerioides 'Silver Needle'
Thymus praecox 'Highland Cream'
Thymus praecox 'Ruby Glow'
Thymus quinquecostatus ibukiensis 'Alba'
Uvularia grandiflora
Veronica liwanensis
Veronica prostrata 'Aztec Gold'
Veronica repens 'Sunshine'
Viola walteri 'Silver Gem'
Chapter Plant Sales
Chapter plant sales are open only to members of DVC-NARGS and their guests. They are held at Robbins Park in Ambler, PA. Directions.

Our fall and spring plant sales are special benefits of belonging to our chapter. The are suited to our climate and are very reasonably priced, starting at a dollar a pot. Our silent auction plants are legendary for offering unusual plants, as well as hypertufa troughs and other sought-after items. Instructions for donors: Plants must have a white label with the botanical name of the plant on one side and donor's name on the other side. Donors receive one free plant label for every plant donated. In addition, donors are entitled to select up to five first choice plants, one for every ten plants donated, and are allowed several minutes to do this before non-donors are allowed to start shopping. Members pay for their first choice plants. Plants of exceptional rarity, quality, or size are welcomed for the silent auction; extra donor credits will be given.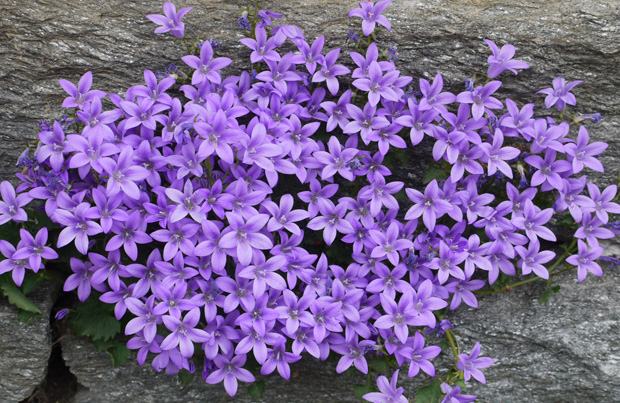 Campanula portenschlagiana 'Resholdt's Variety' (Dalmatian bellflower). Will we offer this plant at the plant sale at Morris Arboretum in May, 2017. Photographed May 6, 2010 in Philadelphia. Photo by Janet Novak.